MY NEWS
My latest creative venture is directing my friend Ron Keaton in CHURCHILL, a solo performance piece produced under the auspices of The Greenhouse theater Center and Solo Chicago Theatre. Please check out the reviews here.
I'm embarking on a new and potentially exciting theatrical venture. I'm starting my own theatre company.
It's called N.O.T. Productions. The N-O-T is for Never Outright Traditional. Plans include musical theatre raves(late nite concerts of new musical theatre materials heretofore unheard.), Readings of new musicals by emerging MT authors, partnerships with existing companies, and full productions of new and "indie" musical theatre fare.
Another of my creative endeavors was to be"Creative Consultant" for Route 66 Theatre Company's production of NEXT STOP, an original collaboration between 8 Chicago playwrights and Chicago based composer/performer Diana Lawrence. It premiered at Stage773 last year and was recently presented as a work in progress at Steppenwolf Garage After Party series.
I was very excited about the news of the CCPA 2012-13 Season. See announcement on CCPA website here.
I directed the regional premiere of LYSISTRATA JONES with a wonderful cast and crew at Chicago College of Performing Arts Theatre Conservatory. Click here for Production Photos.

Spring Studio show at CCPA called MUSICAL THEATRE, B*TCH went swimmingly. A pleasure working with all my talented friends at CCPA, music director Ryan Brewster and choreographer Cameron Scott Turner, with a little help from SRG.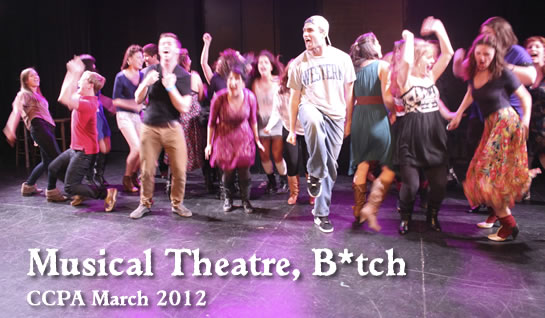 Very excited to be working as producer for Getting To Know, Inc. on Faith Ringgold animated documentary for kids.
I've taken on another project through Porchlight, acting as director for a new musical about Chicago politics.
Getting To Know Abraham LIncoln the animated video was released. I was producer and the voice of Abe himself. This video is already being well reviewed and recommended.
Great success with fall CCPA Show called ANOTHER MOTHERF****R WHO'S JUST LIKE ME. Wonderful cast who are working beautifully a little our of their comfort zones. They're stomp-stepping, writing and performing their own poetry, performing contemporary musical theatre lit and buggin out a little. Below is a picture of me and the great cast.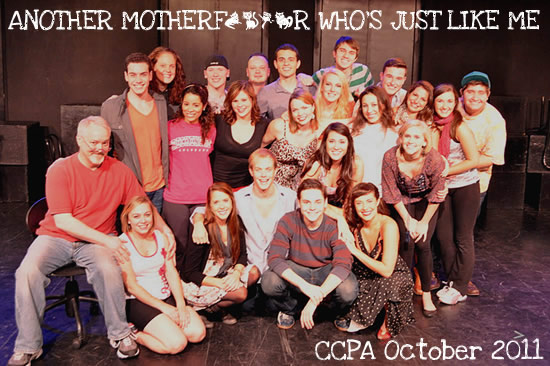 I directed a Chicago reading of THE BRAIN THAT WOULDN'T DIE IN 3D the musical with Tom Sivak and Beth Gelman. The reading was produced under the auspices of Porchlight Musical Theatre in their Off-The-Porch series and took place at the Greenhouse. It was produced at NYMF in the fall.



Here is Tom Sivak, Beth Gelman, myself and Michael Weber at the BRAIN talkback.
The score for the Getting To Know Abraham Lincoln kid vid is done. I do the voice of Abe and I am music producer. The composer Eric Sproul did a wonderful job. Final cut/mix due soon.
Finished the website for Mom! The Musical. Here's hoping they get a production soon.
I finished the CCPA April musical theatre studio show called CROSSING CRAZYTOWN. It was a huge hit and incredibly fun to do. It was a very lucky confluence of people, material and timing. I got to work with the very talented Ryan Brewster as music director...and his mad genius noise box.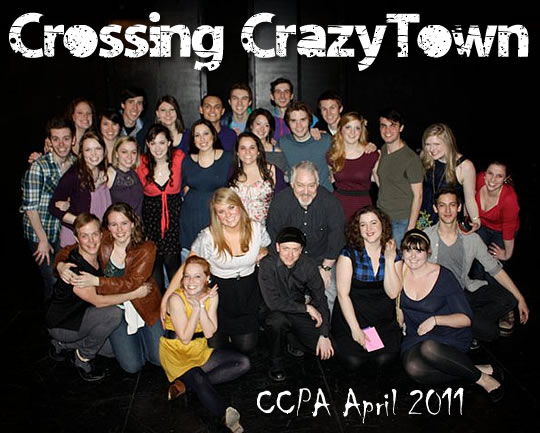 Also I am doing some directing/productin work @ GettingToKnow.com
Currently in production on Abe Lincoln episode and animated video for little kids about Painting Media.
I finished the website for a dermatologist practice in Palo Alto.
I also finished a large amount of updates to the NHSI website for Northwestern U.
I just finished directing the October musical theatre showcase at CCPA/Roosevelt University. We named it "IT'S ONLY[name of damn thing]. The lovely and talented Diana Lawrence was music director. I couldn't have been happier with her work. So... I've become acquainted with these 22 talented young artists and I've dug deep to try to match musical numbers with with their talents and get everyone some time to shine. I'm so proud and moved that some of the solo & group work turned out so wonderfully. The audiences, students and faculty seemed to really like it. Alas it is over all too soon. It would be great if these things could have a little longer life.
I directed the March 2010 Musical Theatre Showcase at CCPC/Roosevelt University. I didn't know what to expect. Beginning on January 19, first auditions, I began a journey which has really widened my horizons. I began having meetings with Jimmy Morehead, my very talented Music Director/pianist. The auditions and casting process netted me a cast of sixteen diverse, talented and light hearted artists. Eventually after the material was chosen and learned, we started the work/play. I relied on group improvisations to provide the staging and to bring as much of these young artists personalities to the work as possible.

As we closed our last performance of our affectionately named SCREWED UP PEOPLE, I considered it a tremendous success. I'll never forget the experience or these talented and dear young artists.
I recently finished designing and building the crewneckproductions.com for John Scheinfeld and Karen Vock in LA. John recently finished a great documentary called WE BELIEVE about Chicago and the Cubs.
All summer I have been working with Getting To Know productions as producer on their children's videos. We got an initial draft of PAINTING MEDIA and will start revising the final version in the near future. Meanwhile the Getting to Know Abraham Lincoln animated episode is rolling right along. I'm privileged to have done the voice for Abe and am also supervising script, music and animation.