My Story
After living in NYC for 20 years and having a Regional, Off-Broadway, National Tour and Broadway performing career, Kurt re-patriated to Chicago specifically to further his theatrical writing and directing career, develop new work on Chicago stages.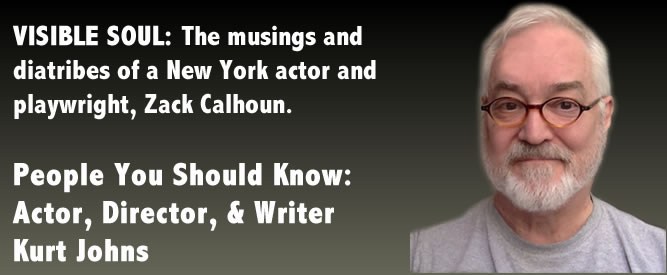 Kurt Johns featured VISIBLE SOUL "People You Should Know"
In this interview format, Kurt talks about his theatre career in NY and Chicago, SoloChicago Theatre, and creating Hello Kitty Must Die with Gail Rastorfer.
Read the interview here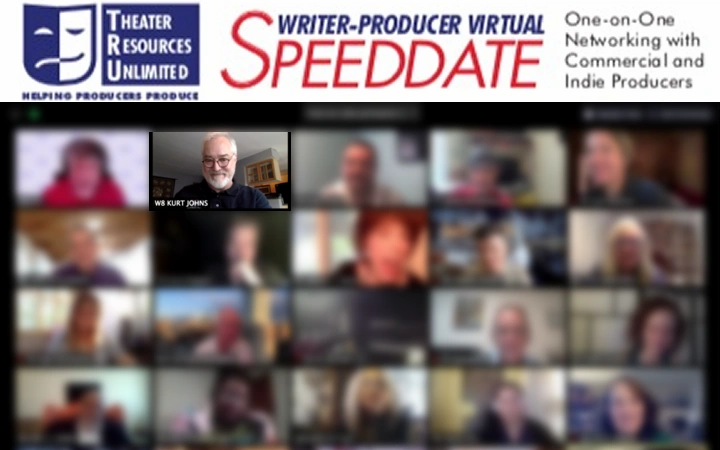 Kurt Johns co-adaptor and director pitches Hello Kitty Must Die to 20 NY producers in a Zoom Speed Date Pitch Session set up by Theatrical Resources Unlimited. on July 19, 2020
Kurt co-authored and is promoting a darkly comedic, solo play called Hello Kitty Must Die, based on the indie novel by Angela S Choi. After successful readings in Chicago, New York, and LA, we're shooting for a world premiere production in the near future.
In April of 2019 Kurt was thrilled to collaborate with American Blues Theater to direct the Chicago Premiere of The Absolute Brightness of Leonard Pelkey starring ABT stalwart Joe Foust.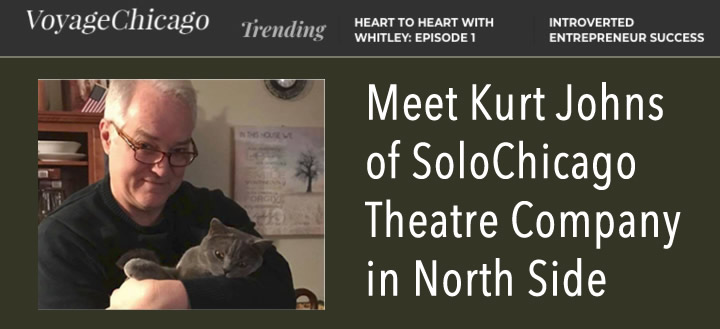 I remember in 2018 doing a phone interview for VoyageChicago eMagazine. I think I ran on a bit but I talked about how I got to where I was at the time. I was living in Evanston, working on getting Hello Kitty produced, talking about a Churchill tour,and about to go into pre-production in for The Absolute Brightness of Leonard Pelkey at American Blues Theater. Read the interview here
In 2016 SoloChicago produced it's second show, The Unfortunates by Aoise Stratford. Directed by Kurt Johns and starring Gail Rastorfer. It was given critical acclaim and won Gail Rastorfer a Jeff nomination for Best Solo PErformance.
In 2015 Ronald Keaton and Kurt Johns formed SoloChicago Theatre Company, whose mission was to bring to Chicago and develop solo plays and musicals heretofore unseen
In 2014 Kurt was asked to direct his friend Ronald Keaton's brand new one man show, Churchill . Kurt helped develop it for the stage and directed the production that ran to multiple sold out houses and extensions at the Greenhouse Theater Center. After finally closing at the Greenhouse it was determined to take the show to New York City, where Churchill played theater 5 at New World Stages for a healthy six month run, before coming back to Chicago for a return engagement where it won the Jeff Award for Best Solo Performance.>
In 2012, Kurt secured the rights to the regional premiere of Lysistrata Jones which was cast and performed by CCPA students on the mainstage at CCPA.
In 2010 Ray Frewen invited me to come work with musical theater majors at Roosevelt University's Chicago College of Performing Arts. For the next several years Kurt worked closely with upper classmen musical theatre majors on showcasing the works of contemporary musical theatre composers and their work.
in 2009, Kurt was thrilled to work once again with The Mistrae, those wonderful, talented, muselike women who performed THE MISTRESS CYCLE at the Auditorium Theatre until the premature closing of that production on Saturday August 8th.
He used to spend an inordinate amount of time running his company ARTZTEK LLC, which provides tech and Internet services to the arts world. Artztek provides web services for Victory Gardens Theatre, The Kodak Theatre in LA, Northwestern University's National High School Institute, The Women's Project in New York City as well as many smaller arts related organizations and individuals. Kurt's first return trip to Chicago found him working as a director/producer of children's animated videos for Getting To Know, Inc.
Kurt returned to Apple Tree Theatre where he has served as the Associate Producer, Artistic Associate, and casting director to direct PEN by David Marshal Grant, featuring his pal and erstwhile co-star, Hollis Resnik, Robert Allen Smith, and Austin Campion. It ran September 24 through October 19. It turned out to be a wonderfully strong production of a challenging and fascinating play.
Kurt directed Gilbert & Sullivan's IOLANTHE in the Summer of 2008 with his friend Rudy Hogenmiller choreographing at Light Opera Works in Evanston. It played August 16th-24th, got wonderful reviews and far surpassed ticket sales projections.
In the 2007 Season, Kurt directed the regional premiere of THE MISTRESS CYCLE, which played to rave reviews and was Jeff Award nominated in three categories, Best Production of a Revue, best Director of a Revue, and Best Actress in Revue.
BERLIN TO BROADWAY WITH KURT WEILL, which Kurt directed, performed at Light Opera Works to very positive audience response despite one very cranky review and even surpassed single ticket sale projections.
Kurt enjoyed stepping "onstage" for the first time in 10 years to perform the cameo role of Wib in CRIMINAL HEARTS at the Apple Tree, directed by his pal Ray Frewen. The Windy City Times called his cameo performance "chilling". In 2006, Kurt edited and directed a dramatic reading of excerpts from Goethe's FAUST, sponsored by the Goethe Institute and performed at the Smart Museum.
IRON by Rona Munro, which Kurt directed at "The Tree", was the Chicago Tribune Critic's Pick, was Jeff Award recommended, and Pioneer Press named Kirsten Fitzgerald in IRON best performance by an actress in 2007.
Kurt enjoyed directing a staged reading of THE SEXUAL NEUROSES OF OUR PARENTS by Lukas Barfuss, which will soon have a New York production, at the Goethe Institute. Kurt directed THE WATER COOLERS at the Lakeshore Theatre for which he was nominated for a 2006 Jeff Award as Director of a Revue. Summer 2006 found him teaching master classes at Northwestern University's National High School Drama Institute.
Prior to which, he directed the popular, well received THE TALE OF THE ALLERGIST'S WIFEat the Apple Tree Theatre. In 2005 Kurt received a Chicago After Dark Award for direction of a play for the critically acclaimed VINCENT IN BRIXTON at Apple Tree Theatre. VINCENT also received After Dark Awards for Leading Actor and Production of a Play. In 1997, Kurt directed THE DIARY OF ANNE FRANK at Apple Tree TYA.
In 1998 Kurt's theatrical performing career came to an abrupt halt when he lost his singing voice in a Julie Andrews-esque manner. Not one to sit on his injured laurels, and with the help of AEA, Kurt went back to school at Baruch College in Manhattan in computer network engineering. Prior to founding Artztek, Kurt was the technology consultant to Manhattan Theatre Club for a number of years, building computer systems, developing websites, and providing the technology guidance for the company's new home, Broadway's Biltmore Theatre. Kurt spent a year as the VP of technology for Broadway Television Network/Theatre.com, whose productions can still be seen on HBO. Kurt received the Local Hero Award from Alliance of Resident Theatres of New York for his service to not for profit theatres in NYC.
Prior to taking on directing, Kurt enjoyed a very successful career as an actor, including the Broadway productions of ASPECTS OF LOVE and CHESS, both directed by Trevor Nunn. He played Freddy in the Scandinavian concert tour of CHESS, was featured as Enjolras in the First National Tour of LES MISERABLES where he worked with John Caird. Off-Broadway Kurt starred in SHARON! directed by Geraldine Fitzgerald. Kurt enjoyed performing at Carnegie Hall in CHESS IN CONCERT and GIVE MY REGARDS TO BROADWAY: A SALUTE TO 130 YEARS OF THE MUSICAL.
Here in Chicago, Kurt performed as both the Soldier and George in SUNDAY IN THE PARK WITH GEORGE at the Goodman Theatre, where he also appeared in SHE ALWAYS SAID PABLO. At the Marriott Lincolnshire Theatre, Kurt received national attention as Hildy (Jeff-nominated) in the American Premiere of WINDY CITY, Baron Felix in GRAND HOTEL, and Harold Hill in THE MUSIC MAN. At the Court Theatre, Kurt appeared in PUTTING IT TOGETHER. At Apple Tree Theatre, Kurt was Jeff-nominated for playing John Wilkes Booth in ASSASSINS. Kurt enjoyed playing Che in EVITA for an extended run at the Candlelight Theatre. Kurt was honored with a Joseph Jefferson Award for his work in GRAND NIGHT FOR SINGING at the Drury Lane Theatre. Kurt took on writing and producing credits for THE NOT MIKADO. Kurt performed in Virginia, Washington DC, and Detroit in the role of KoKo in that show.